OPR Wish List
---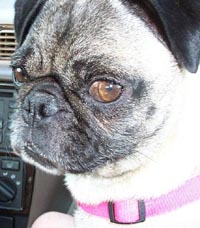 Mishu (2002)
The Ohio Pug Rescue has rescued hundreds of Pugs over the years and we need all kinds of help.
Here are some suggestions for different kinds of donations that we could really use to help with our Pugs.
Thank you very much!
Gas Cards - We are all aware of high gas prices and it gets pretty costly for our dedicated volunteers who drive all over the state to do surrenders & adoptions.
Harnesses & Leashes - If your pug has outgrown it's harness and/or leash, please consider donating it to OPR foster pugs. All OPR rescue pugs are given a harness & leash when they arrive in rescue and are adopted out with them.
Digital Cameras - Digital cameras are becoming less and less expensive for better quality cameras, and as a result many of us have updated our cameras and have old digital cameras gathering dust. We have rescuers who can't get photos to us because they do not have a digital camera.
Car Wash Gift Certificates - For transporters who always have cars covered in pug hair!
Food for Fosters Program - Can't foster a pug yourself? This program lets you help both the pug and the foster family by donating dog food to foster homes.
Monthly Heartworm Pills - Heartgard or Revolution
Flea Preventative - Frontline
Crates
X-Pens
OFFICE SUPPLIES:
Postage Stamps
Envelopes - letter & business sizes
Copy Paper

Volunteers - Folks who want to be involved by working at fundraisers or fostering!

Monetary Donations - 100% helps pay our ever increasing vet bills.

Ohio Pug Rescue, Inc. is a 501(c)(3) nonprofit, all volunteer organization. Your donations are tax deductible to the fullest extent of the law!