Puppy Mill Report
---
Return to Menu
The news stations came out to conduct interviews with our members to find out the details and how we were going to handle things. Our first priority was to get each pug immediate medical attention. Some of the pugs tested positive for heartworm, some had luxated patellas and needed surgery, glaucoma was found in some and all of them needed love and attention. Most of these conditions are hereditary and could have possibly been passed down to their litters. The breeder showed no concern over this.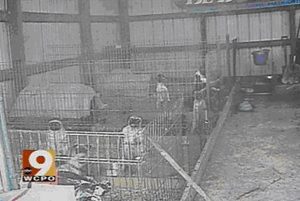 The conditions the pugs were living in were not fit for any animal. In the back of this ladyís house she kept them in a pole barn with no heating or cooling or running water. The lady had 6-7 females in a pen with one male. There were maggots in their food and water bowls. Most of the pugs were underweight and very filthy. Their pins were not cleaned out so they were living in urine and feces. Click here to see pictures of the barn.
Once we had all the pugs settled in to foster homes the real work began. Most of these pugs never had the chance to play or be socialized. They didnít know what toys were and some of them were afraid to eat from a bowl or to eat at all. Some of them were scared of the lights coming on in the house, the refrigerator door opening and just the touch of a hand. They did not trust us and were very shy and timid. We had to earn the trust of these precious pugs and teach them how to have fun and play. Since most of the foster homes have their own pugs they were able to learn by example.
This was a very hard experience for OPR to get through. We had to find foster homes for the 22 pugs, get them to the vet for medical attention and then start the task of finding homes for them. When the public asked what they could do to help they responded in a wonderful way.
We are very proud of OPR and all the volunteers that pulled through for us.