Puppy Mill Report
---
Return to Menu
Paris had lived her life in a small cage in a pole barn on a dirt floor. The Vet estimated her to be 3 or 4 years old. You could tell by her ninnies she had been a Mother many times. She suffered from malnutrition. This was evident by her weakness, the texture of her hair, bad teeth, her thin body, and she had a heart murmur.
We picked her up at Kim's house and she rode home on my Mom's lap. Paris had never seen the outside world. It was like she was a puppy just opening her eyes. She set there like a concrete statue looking straight ahead thru the windshield. Mom kept talking to her, stroking her, and giving her kisses. After about 15 minutes she started to relax and looking around. By the time we got home her little head was on a pivot trying to take everything in.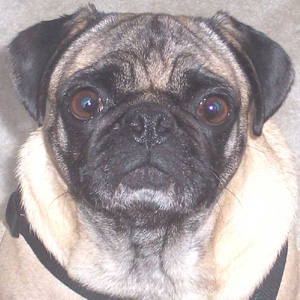 Paris
We drove into the garage and took her into the backyard. She walked around investigating. We introduced our Pugs to her a couple at a time. We have five. They greeted her and tried to engage her in play. Paris did not know how to play and just watched them. We had to teach Paris from scratch. She had never been in a house. She had to learn to do steps, house breaking, etc. She learned very quickly. She loved to lap sit, give kisses, and sleep on the bed.
Paris was in heat when we got her and weighed around 12 pounds. The Vet said it would be about 6 weeks before we would know if she was expecting. She was not; therefore, we had her spayed, her hernia fixed, dental work done, and she was given her rabies shot. She had had her other shots earlier. Paris no longer had a heart murmur and she weighed 20.4 lbs. Paris was ready to go to her Forever Home.
I am always totally amazed at how loving and sweet Pugs are after having come out of the abusive situations they have been in. All they do is give love.
Diann Bolander