Puppy Mill Report
---
Return to Menu
My husband and I have been fostering dogs in need for a very long time. This summer, however, was the first experience that we had fostering and adopting a dog that was raised in a puppy mill. Dogs that were guessed at a year or less had already been bred. They required much more veterinary care to become healthy. Many ear infections, UTIs, skin infections, a lot of worms and no sense of bladder control. They needed dentals and large amounts of antibiotics. The medical bills were very large. It was all worth it.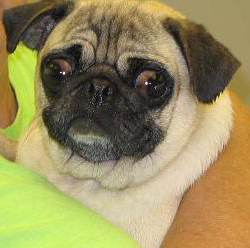 It took much more work to socialize them with people and to get them familiar and comfortable in new and different situations than the average foster. It was the first time that a dog did not know how to eat from a bowl. It was however so much more rewarding than the average foster. Typically it is very rewarding and you become so attached to each dog, but in the puppy mill case, we became VERY attached. They were so loving and affectionate once they trusted somebody. Personally we experienced that they really were so desperate for attention they had to be touching a person all of the time. They were introduced to the inside of a house and mine was not sure about the floor. She was also not initially very confident about entering the house through a door. She was a challenge to potty train and ate like there was no tomorrow. It was such a great feeling to sit on the couch and hold her each night. It continues to be very special to hold our new family member every minute that we can. They both discovered the joys of sleeping on dog beds and human beds!
As the weather turns colder, I hold her a little tighter knowing that this is her first winter indoors. Our family is so very lucky to know these very special dogs. Sharing our lives and home with them has been an outstanding experience!
The Darling Family