Puppy Mill Report
---
Return to Menu
My experience with the Butler County fosters goes to the very beginning.
I had heard from a worker at a dog walk that their shelter had just taken in about five pugs. I immediately asked it they were a shelter that worked with rescue. She said yes, and gave me the phone number for the Dr. that was taking care of the Pugs.
I called Karen Ray because Terri was moving that day. When I heard back from Terri, she informed me that there were probably 25 Pugs. This was on a Saturday in July. By that evening when I got home, OPR had a swung into full action. They had vans and crates and whatever lined up to pick up all these precious babies. I left from Cincinnati, and most of the others came from points north. We all met at the shelter and took a part in getting these babies to there foster destinations. Some were very sick, and didn't make it.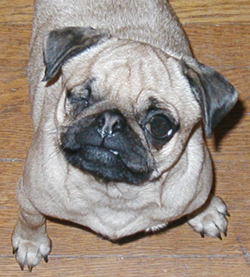 Jacqueline
After about 4 hours of shots and tests, the Pugs were ready to travel. I brought home three to foster. Indigo, a beautiful black female, Liberty, "The Mae West" of pugs, she was pretty, and she knew it, and Little Jacqueline weighing in at about 10 pounds and had just one eye. She also had heartworm. The way the names came about instead of the numbers that they had was the Kim had a name book and she would read the names and we would all agree that it sounded good for that particular Pug, Except for Jackie. My husband wanted a one eyed Jack and Jackie fit the bill with just one eye. These dogs were so sweet. They just needed so much love. Not aggressive at all when we first got them.
Liberty was such a flirt. She loved the other dogs. She was so pretty and I swear she knew it. She was so needy and wanted to be loved and held all the time. She was a very gentle Pug and wouldn't hurt anybody. She was very consistent in her behavior, and didn't change so much the whole time she was here. We had her for three months.
The last little baby I fostered is Jacqueline, and we still have her. She has quite an attitude. She is ready to take on the world any time any where. I am totally in love with her. She went through a lot having to be treated for heartworm. We had to keep her caged for 30 days, and that was so hard on her. When she finally got released from jail, she was right back to her little bad self. Way too cute. The three Pugs I had didn't change much. They were very loving when I got them, and just continued in that way.
I don't know if I will ever foster three at the same time again, but I am glad I was given the opportunity to work with such a wonderful group of people the make up OPR. I am so very proud to be a part of this organization. The main goal is to help the Pugs and they live up to that every day.
Sydney and Dan Sticker
Pug Foster Parents